CERN's medical service can be found in Building 57 on the Meyrin site.
This service comprises: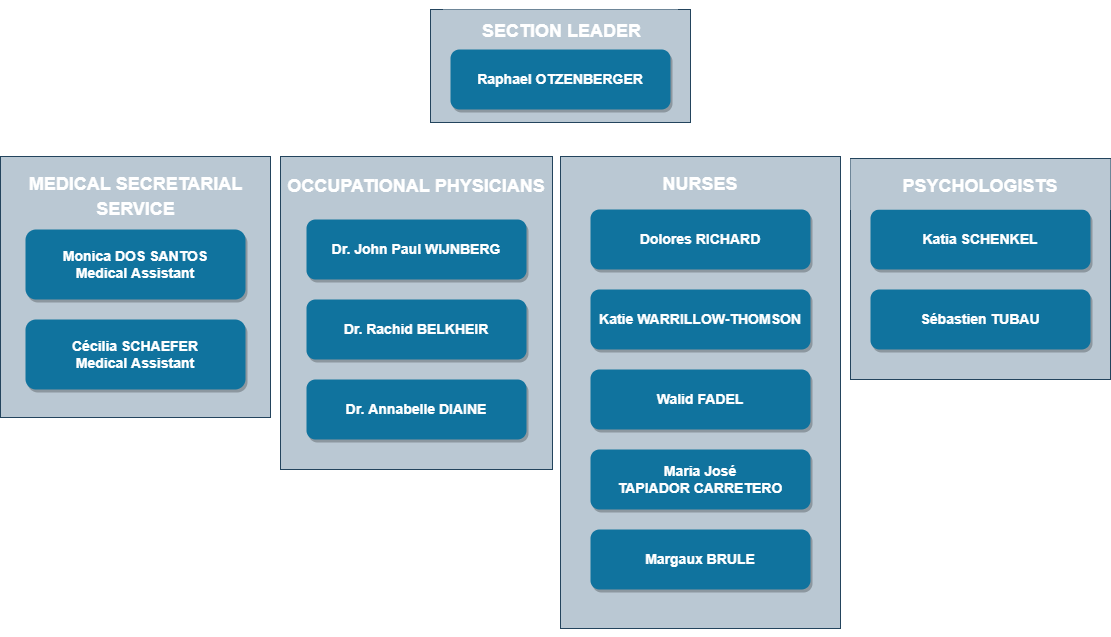 The tasks of the service are:
to monitor the health of employed members of CERN's personnel and to determine their fitness to carry out their work;
to implement occupational health and safety measures with a view to safeguarding the physical and mental health of employees throughout their professional life at CERN (e.g. prevention campaigns, examinations in addition to those carried out during regular medicals, ergonomics assessments, defibrillator training, etc.);
to provide primary care for anyone on the CERN site with physical or mental health problems;
to respond to medical emergencies, in collaboration with the relevant services (HSE-FB, SMUR), in accordance with the agreements reached between CERN and the Host States;
to provide initial care in the event of occupational accidents and to assist in the subsequent medical and administrative follow-up for employed members of the personnel (MPEs);
to monitor MPEs who are on long-term sick leave and promote their return to work or support them in the formalities leading to the recognition of disability (JARDB);
to screen MPEs for occupational illnesses and to initiate the formalities leading to the recognition of such.
SERVICE ACCORDING TO YOUR STATUS
The personnel of the medical service is bound by professional secrecy.
 

MPE

MPA

ENTC

Visiteur

Primary care

ü

ü

ü

ü

Treatment dispensed by nursing staff* and vaccination* (with the exception of yellow fever)

*with medical prescription

ü

ü

ü

x

Blood tests at CERN (external Swiss laboratory)

ü

(Cat.A)

x 

x 

x 

Workstation visits

ü

ü

ü

x

Mandatory medicals – occupational medicine

ü

x

x

x

Official travel – consultations

ü

x

x

x

Fitness for work – issuing of dosimeters

ü

x

x

x

Consultation of the CERN psychologist

ü

ü

x

x
Categories of members of the CERN personnel.
MPE = employed members of the personnel: staff members, fellows
MPA = associated members of the personnel
MPAt = doctoral, summer, administrative and technical students, trainees
ECP = external contractors' personnel
The Medical Service does not provide services to family members or pensioners.