PESS
Project & Experiment Safety Support In case of emergency or incident, call
Off
Project & Experiment Safety Support
At CERN we develop and exploit a variety of projects that are necessary for the Organization.  Such projects may include new research or beam facilities, experiments, industrial or tertiary installations, as well as maintenance and consolidation activities. The Project and Experiment Safety Support service provides project leaders and other safety officers with a dedicated support structure that helps them fulfil their roles and responsibilities with respect to safety, by ensuring that safety aspects are taken into account from the earliest stage of each project. The support activities provided include hazard identification, provision of a tailored list of the required safety documents, ensuring compliance with the requirements, and implementation of technical and organisational risk control measures.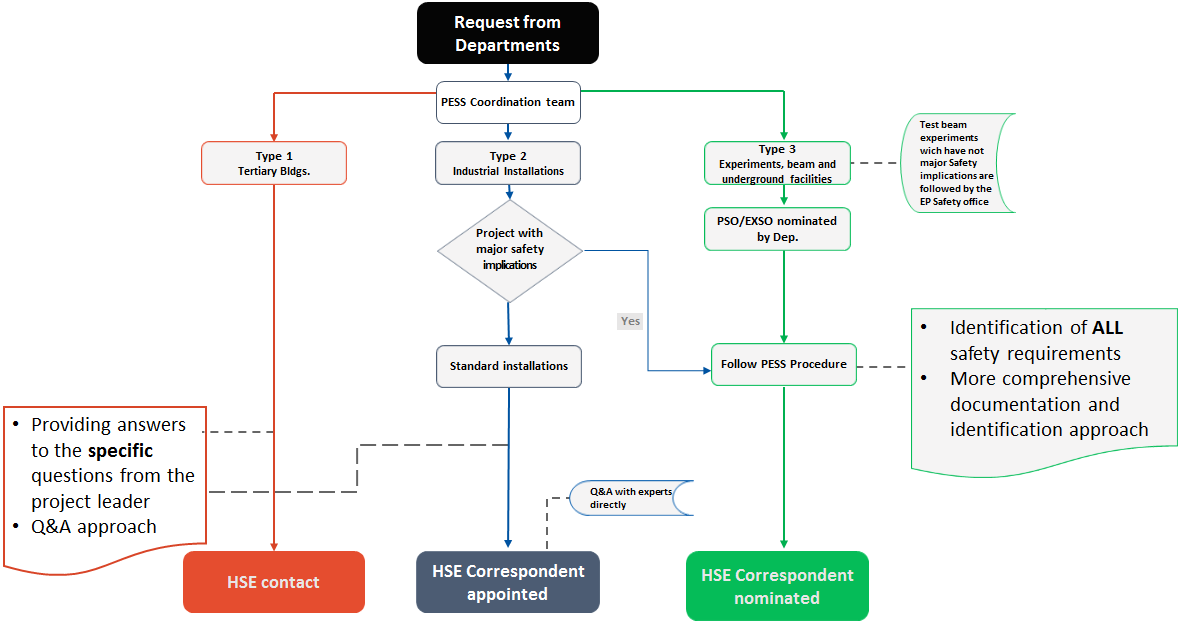 Who will I be speaking to?
Only a single point of contact from the HSE Unit will go directly to the specialist and provide you with an answer.
The type, complexity, and safety domains of the project will dictate which HSE services are most appropriate, from simply answering your queries through to a thorough review of all the safety requirements for your project.
A HSE correspondent/contact will be assigned to your project throughout the life-cycle of the project, so that the HSE Unit can support the Project Leaders in providing guidance and support at every stage.
Contact: PESS-Coordination@cern.ch