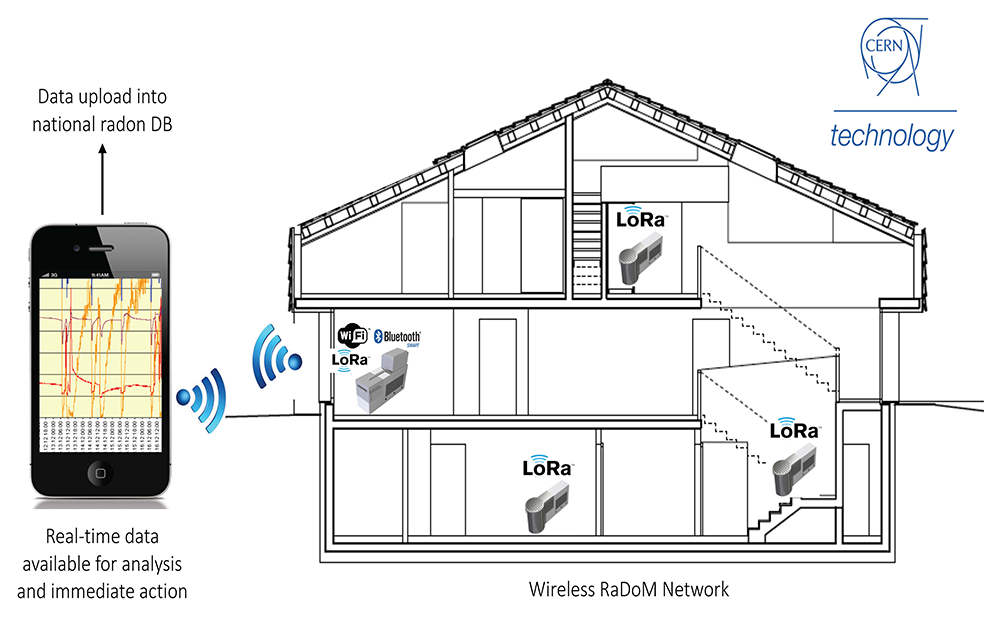 The Radon Dose Monitor (RaDoM) project has been successful in securing a spot in the final round of the MassChallenge 2017 Start-up Accelerator Programme in Switzerland, with the goal of setting up a CERN spin-off company named SmartSensors.
MassChallenge is an organisation dedicated to supporting start-up businesses by providing resources to help them succeed, such as mentoring, networking events, and office space, in a short space of time.
Thanks to the funding from the AIDA-2020 Proof-of-Concept and the CERN Medical Applications funds, the RaDoM team will work in conjunction with Politecnico di Milano to develop a network of smart sensors based on CERN technology for monitoring radon, a natural radioactive gas.
Radon is a colourless and odourless gas produced in decay processes of natural isotopes. However, the gas is also hazardous and poses a risk when left to accumulate in buildings, particularly in enclosed spaces such as lofts or basements. Indeed, radon is one of the leading causes of lung cancer deaths, second only to smoking.
As such, pre-emptive monitoring of radon levels in homes, workplaces, schools and other public buildings is crucial, particularly considering the introduction of new European legislation, which aims to reduce radon exposure risk.
However, many currently available radon measurement systems are inefficient, unreliable, expensive or can only be operated by experts. In addition, without sharing or compiling the data in an archive, health and government authorities encounter a lot of difficulties in properly monitoring geographical trends.
Using the Swiss National Radon Action Plan 2012-2020 as a guide, the RaDoM project aims to create a device and software framework to better tackle the risks of high radon levels. The device will combine radon sensors, new software, and Wi-Fi, Bluetooth and Lora connectivity options to produce an appliance that is better connected, more efficient and provides faster data analysis, as well as complies with new radon limiting legislation.
Whilst authorities (such as public health offices) will be able to monitor the radon levels via the central database, direct users will have access to radon data in real-time using mobile applications, and later a web interface. This will allow basic mitigation actions to be triggered when radon concentration exceeds the acceptable limits.
The project was selected from 450 applicants for the first stage of the MassChallenge Switzerland 2017 start-up accelerator.
Francesco La Torre, future CEO of the SmartSensors spin-off company and a Radiation Protection Physicist at CERN, details his experience in the first round of the challenge, "I gave a pitch at Campus Biotech in Geneva in front of an expert panel of six judges and the feedback was overwhelmingly positive."
The project was then selected as one of the 75 Swiss finalists, and officially joined the programme as of 19th June 2017.
Link to original article

This article was originally published by Jennifer Toes for On Track.